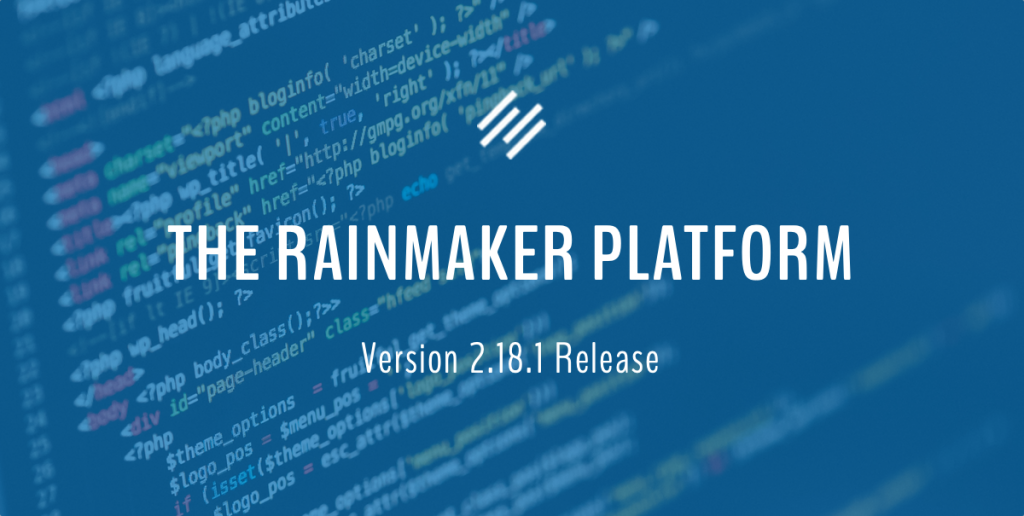 Happy Holidays! OK, maybe it's just a bit early for that greeting, but we're writing with good news, so …
As we start putting 2018 to bed, and preparing to help you grow your business even further in 2019, we wanted to finish this year with a strong, new release of the Rainmaker Platform.
And, a little secret … we've also been working hard on a major platform release that we'll be letting you know more about in the spring of next year. But until then, take a look at the excellent batch of Rainmaker Platform enhancements, updates, and bug fixes that can make your site (and business) run better.
Here's a quick update on all the latest improvements …
The Enhancements
Podcast Reporting: We've rewritten the podcast reporting code to optimize how the data is gathered and stored. You'll notice two major improvements: first, the reports will run much more quickly, even for expanded timeframes with lots of data … and secondly, we've added a status bar so you'll know the progress of the report. We've also changed the way we store the report data so subsequent reporting will also move more quickly.
Podcasts: The default copyright message now automatically updates to the current year. NOTE: Sites with a custom message in place will need to change to the default message to take advantage of this new feature.
Tools Menu: On preview sites, if no Tool feature is available, the Tool link in the top admin toolbar will not be present.
Zapier: We've added the ability to add an "Unsubscribe" webhook for your RainMail subscriptions.
Checkout Page: We have added the country of Kosovo as an optional country selection.
The Updates
The Responsive Slider has been updated for better performance.
Google Webfonts has been updated to add new fonts.
Several security improvements have been put in place.
Rainmaker code is now more closely tied to WordPress coding standards.
POT files have been updated.
The MailChimp API has been updated.
The Bug Fixes
All Media File uploads to the Download Manager and Media Library now appear as https instead of http. You won't experience mixed content warnings or issues with your podcast playback anymore.
We've corrected the GDPR consent message on the registration page so that it refers to registration vs. checkout.
We've fixed the admin breadcrumb styling on the Landing Page pages.
We've fixed a bug where the forms added using the Page Builder Ninja Form Widget were not displaying the form on the page.
We've fixed a bug where Affiliate Settings were not saving in the Traffic Settings.
We've fixed a bug where the merge settings for Mailchimp integration were not being saved.
We've fixed a RainMail bug where scheduled emails were sending twice.
We've fixed a RainMail bug where you were unable to enter an RSS URL for blog broadcast within an email list.
We've fixed an issue where the RainMail Confirmation Email template was not displaying an uploaded logo (or the link as a button) and removed the Feedblitz reference.
Got Questions?
We're always here for you, ready with our best answers or options for your issue and/or goals. Whether you need some help with your Rainmaker Platform site, or you want to develop a powerful digital marketing strategy that works, please don't hesitate to reach out anytime.
And that's it for this update of the Rainmaker Platform … see you next time!
Best regards,
Cody Haney
Director of Support
Rainmaker Digital Services